By Gosia
This year my parents have grown giant zucchini in their garden! They were really huge.
The biggest we picked up so far, was around 35cm/14inches long and weighed over 2kg/70ounces.
What would you do with such a huge zucchini? How would you eat it? As we had a few of those, I was looking for zucchini recipes to make delicious meals that the whole family could enjoy, especially my daughter. I've found really great recipes and decided to share them, so you can try them as well. They are all kids friendly, easy to make and so yummy!
You can find them all on my Pinterest board Zucchni recipes.
Mushrooms in a forest – meatballs with zucchini mousse by Kiddie Foodies
The zucchini mousse from this recipe I did recently is really delicious and mouthwatering. My daughter loved it and my husband too!
Double chocolate zucchini bread by Home in the Finger Lakes
This chocolate zucchini bread is moist and full of chocolate flavor with unsweetened cocoa powder and semi sweet chocolate chips. You can make more than one loaf at once and freeze the others. Kids will love it: chocolate and veggies!
Zucchini muffins by We made that
All kids love muffins and so does my daughter. I always try to add some healthy ingredients to the muffins I make, either fruits or veggies. This recipe was perfect for our huge zucchini!
Stuffed zucchini by Krysta Steen
These stuffed zucchini can make a great main dish or side dish. You can also add some funny veggies decoration and your kids will love it!
Zucchini Fritters with Asian Dipping Sauce by Five Heart Home
I love all kinds of fritters recipes and this one was really easy to prepare and delicious. I loved the asian dipping sauce !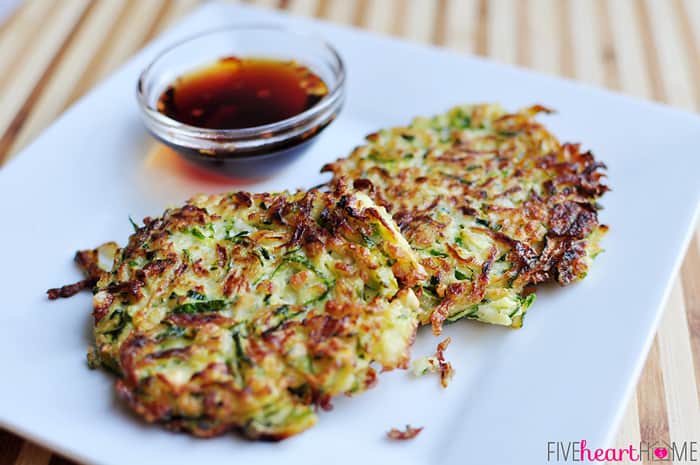 Zucchini carpaccio by Just us four
Carpaccio is typically a dish that consists of raw meat that is sliced or pounded thin and served as an appetizer.  I have never thought of making a zucchini carpaccio, until I found this recipe. It is really delicious!
Fried Zucchini with Mint and Pistachio Pesto Pappardelle Pasta by Half baked harvest
Delicious pappardelle pasta recipe with pistachios pesto, served with some crispy and cheesy zucchini. So good!
Grandmas zucchini bread by Tastes of Lizzy T
This zucchini Bread can be an awesome, healthy kids snack. Can be served with fresh butter and a smoothie. Yum!
Blueberry zucchini bread by One Dog Woof
Another zucchini bread recipe, this time could be great for breakfast. It has more zucchini in it than sugar.  With a zucchini, some blueberries and whole wheat flour, feel free to indulge without guilt!
Zucchini caramelized onion galette by Miz Helen's country cottage
It is simply delicious and great for our garden zucchini that we are harvesting right now, this is a perfect Garden to Table recipe.