We are here once again to give you our Top 10 Post Features from PIMH#19. Without further ado, let's visit each featured post.
CO- HOST Gosia of Kiddie Foodies
Gosia's Favorite Posts
———————
I love avocado and this recipe sounds delicious!
Baked Avocados Recipe
by: Leslie of Lamberts Lately
Such a yummy cheesecake, one of my preferred cakes.!
Reese's Butterfinger Cheesecake Bars
by: Taste of Lizzy T
What a cute unicorn! I wish I could one like that for my daughter.
Pattern Review: Hermione the Unicorn by Dawn Toussaint
by: A Beloved Tempest
—————————————————————————————————————————–
CO- HOST
Meredith of A Tipical Day
Meredith's Favorite Posts
———————
I am a huge avocado fan, and this would be a great way to enjoy them!
Baked Avocados Recipe
by: Leslie of Lamberts Lately
This frozen castle idea is genius! What little girl wouldn't love it?
Princess Castle – Frozen Raspberries and Yogurt
by: Gosia of Kiddie Foodies
This wonderful tutorial walks you through the making of flower charms using a plastic soda bottle. The results are stunning!
Plastic Bottle to Flower Charm Bracelet
by: Candy Cake and Crafts
——————————————————————————————————————————-
CO-HOST
Meg of Lip Gloss and Lumber
Meg's Favorite Posts
Due to unforeseen circumstances, the Host will chose 3 favorite post in behalf of Meg
———————-
Very easy recipe that you can whip up in no time. Got to try this.
Honey Garlic Pork Chops
by: Love, Pasta and a Toolbelt
Oooh! This looks so yummy.
X-Mas in July Cranberry Orange Bars
by: True Blue Baking
What a beautiful Yard! Very relaxing.
Summer Cottage Yard Tour
by: Exquisitely Unremarkable
—————————————-
HOST Judy of Pursuit of Functional Home

Judy's Favorite Posts

———————
I just love this very cute sea horse. The tutorial is also easy to follow.
Sea Horse Beach Sign
by: Wesens-Art
This is super super cute Minnie Mouse fry box. Perfect for kids party.
Minnie Mouse DIY Fry Box
by: Juggling Act
There you have it guys. See you this Sunday at 5PM CST for our next Pin It Party.
Be sure to visit our featured Bloggers.
Grab, Wear It, Be Proud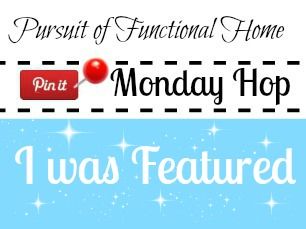 <div align="center"><a href="http://www.pursuitoffunctionalhome.com" title="Pin It Monday Hop I was Featured" target="_blank"><rel="nofollow" img src="http://i1293.photobucket.com/albums/b584/pofh1/PinitHoplogoFeatured_zps319554bf.jpg" alt="Pin It Monday Hop I was Featured" style="border:none;" /></a></div>