You must have noticed that have been in Halloween mood since a while – have you seen the Halloween logo on the blog? Yeah:)
Are you preparing a Halloween party for your kids? Or maybe you have planned to make this whole day special for them? It seems that kids remember better the events from their childhood if strong emotions were involved. So create these emotions and let the memories last longer:)
So if you are still looking for some cute and healthy Halloween food ideas for your kids' party, then check out all these yummy and funny recipes!
I have tried out some of my recipes before our actual kiddie party and they turned out to be a great success. At least that's how my daughter judged them:) Here is what we did so far:
Halloween witch and cheesy ghosts snack
Happy pumpkins – Halloween party food
Bats and ghost dessert
I also wanted to share with you, some other awesome Halloween recipes that are kids-friendly and will put a smile on your kids little face. They are made by amazing bloggers that I love to follow.
Halloween Pancakes
What can be better than a yummy pancake? I think all kids love pancakes, you can be a bit more creative that day and shape them as pumpkin, spider or ghost.. BOO!
"Spooks and Pumpkins" Halloween Breakfast from Will Cook for Smiles
Halloween Pumpkin Pancakes with Black Cinnamon Syrup from TidyMom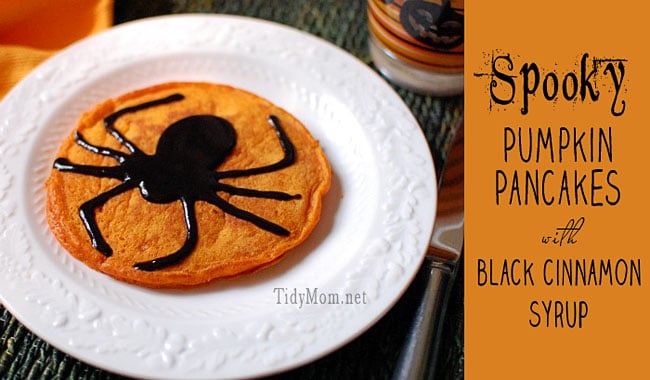 Ghost Pancakes from Creative Food
Halloween Spooky Snacks
If the little tummies are a bit hungry, few great and simple snack ideas will filled them up for w while.
Spider Bites from Sugar-n-Spice Gals
Easy Pumpkin Rice Krispies Treats for Halloween from Food Family Finds
Halloween Pretzel Spider Webs Tutorial from One Little Project
Halloween Creative Meals
There is always a room for creativity, even when you make a pizza or a sandwich! Kids will love these great Halloween food ideas.
Halloween Spider Pizza from Kitchen Fun with my 3 Sons
The Mummy Sandwich from Cute Food for Kids
Halloween Witch Themed Quesadilla from Hungry Happenings
Halloween Healthy Desserts
Kids are getting far too many sweets that day, so I thought there is no point to add more.. Here are few healthy alternatives, all based on fruits. Yes, fruits (and veggies) can also be fun to eat; what matters it it just a cute presentation. Enjoy!
Pumpkin Fruit Cups from The NY Melrose Family
Jack-'O-Lantern Fruit Plate from Whole Some Dinner Tonight
Candy Corn' Fruit Cups from Navy Wife Cook
HAPPY HALLOWEEN !!!